O Projeto Software Livre Bahia (PSL-BA) é um movimento aberto que busca, através da força cooperativa, disseminar na esfera estadual os ideais de liberdade difundidos pela Fundação Software Livre (FSF), possibilitando assim a democratização do acesso a informação, através dos recursos oferecidos pelo Software Livre. Esta busca tem seus alicerces fundados na colaboração de todos, formando um movimento sinérgico que converge na efetivação dos ideais de Liberdade, Igualdade, Cooperação e Fraternidade.
O Projeto Software Live Bahia é formado pela articulação de indivíduos que atuam em instituições publicas e privadas, empresas, governos ou ONGs, e demais setores da sociedade. Além disso o projeto não é subordinado a qualquer entidade ou grupo social, e não estabelece nenhuma hierarquia formal na sua estrutura interna.
---
January 25, 2013
-

0

no comments yet
De 01 a 05 de fevereiro (pré-carnaval) de 2013, Salvador será também a capital mundial da música e da onda digital, pois sediará a segunda edição do DIGITALIA – Festival/Congresso/Observatório Internacional de Música e Cultura Digital. Esse grande evento articula diversas iniciativas do Brasil e do Mundo que relacionam o campo da música às novas tecnologias da informação e da comunicação, notadamente aquelas conformadas pela chamada Cultura Digital! Serão conferências, mesas redondas, workshops e, claro, muita música!!
Confira abaixo parte da programação...
Conferências 01/02 (Sábado)
Palco | 19h30 às 20h30 - Mesa de Abertura
Gilberto Gil
Albino Rubim (SECULT/BA)
Derrick de Kerckhove (McLuhan Program)
Márcio Meirelles (TVV)
Nelson Pretto (FACED/UFBA)
Oona Castro (Wikimedia)
Vinicius Pereira (ABCIBER).
Palco | 20h30 às 21h15 - Conferência de Abertura
"McLuhan and The Digital Culture: (Fore)Sight, Sound and the Fury".
Derrick de Kerckhove (McLuhan Program/Univ. Napoli):
Conferências 03/02 (Domingo)
Cine-Teatro | 9h às 10h30 | Conferência
"Tecnologías de la Información y las Músicas del Mundo"; - Xavier Serra (Univ. Pompeu Fabra/Barcelona) 
"La cultura libre, las guerras tranquilas y las armas silenciosas" - Martin Groisman (Univ. Buenoas Aires) – ; Mediador: Javier Bustamante (Univ. Complutense de Madrid).
"O Futuro da Internet no Brasil: Marco Civil, Tratados Internacionais e Outros Temas" - Ronaldo Lemos (FGV-Rio).
Emicida, Original Olinda Style e Daganja no Digitalia!
Emicida e Banda (completa) se apresentam no #Digitalia2013, na Concha Acústica, em 5 de fevereiro. O artista também convida Rael da Rima para o show e faz desconferência no Digitalia. Autogestão da carreira, "faça você mesmo" e i
niciativa são termos sempre associados a Emicida. Ele participaou de vários festivais, a exemplo do Coachella, Sónar, Black2Black e Montreux.
O Original Olinda Style vai reunir no palco da Concha Acústica dois dos mais expressivos grupos da cena pernambucana. Pela primeira vez em Salvador, Eddie e Orquestra Contemporânea de Olinda tocam juntos, num show que promete ser histórico.
Nome emergente do rap nacional, o artista baiano DaGanja prepara um show especial para a festa do Digitalia. Soul, dub, samba e ritmos caribenhos se misturam às batidas pesadas do rap, conformando uma musicalidade que já transcendeu as fronteiras do seu estado. 
Festa Digitalia 2013
Concha Acústica do TCA
05 de fevereiro de 2013 – 17 h
Emicida e Banda + Rael
Original Olinda Style (Eddie + Orquestra Contemporânea de Olinda)
Daganja e Convidados
Ingresso: troca por um livro infanto-juvenil, na bilheteria do TCA, a partir de 29.01,  das 12 às 18h.
O Digitalia é organizado pela comunidade Audiosfera — uma rede social dedicada à relação entre música e cultura digital, tendo como âncora o grupo de pesquisa de mesmo nome, hospedado no Instituto de Humanidades, Artes e Ciências Prof. Milton Santos (IHAC), da Universidade Federal da Bahia — e tem o patrocínio de: Fundo de Cultura da Bahia (por meio do edital "Projetos Estratégicos em Cultura"), Secretaria de Cultura do Estado da Bahia, Governo da Bahia e CAPES (Coordenação de Aperfeiçoamento de Pessoal de Nível Superior).
---
June 21, 2012
-

0

no comments yet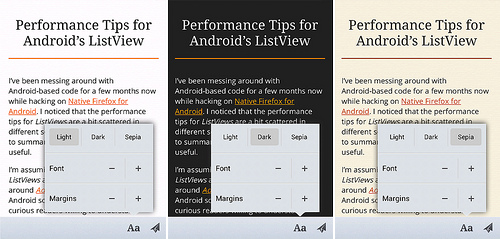 It all started at the Firefox Work Week in Toronto back in April. I managed to find some time during that rather busy week to build a rough prototype of Firefox Mobile's Reader Mode. I've been able to focus on it in the last few weeks and it's now in good enough shape for wider testing.
Reader Mode is about bringing a smooth and beautiful reading experience to Firefox Mobile. It removes all the clutter from web pages and shows you only what you want to read in a minimalist UI. Here are a few things I'd like to highlight about it.

Read now or later. If the current page is convertible to Reader Mode, you'll see the reader icon in the browser toolbar (see image above). If you tap on it, the current page will be loaded in the Reader straight away. You can also add it to your Reading List to read it later using the corresponding app menu item.

AwesomeBar integration. Your Reading List items will show up in the AwesomeBar results—just like any bookmark or history item—making it super easy to find specific items. The Reading List items will have a little reader indicator (see image above). The Reading List shows up as a top-level folder in AwesomeBar's Bookmarks tab, if you want to see the full list of items.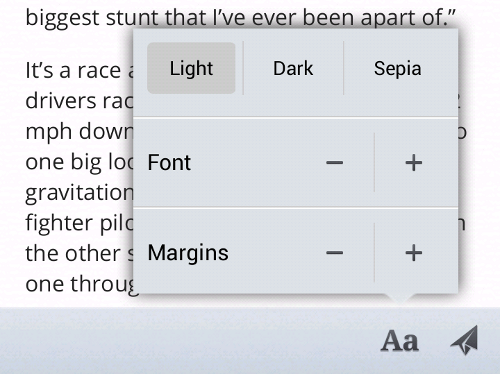 Read your way. The Reader UI is minimal but very configurable. You can set the color scheme (light, dark, and sepia), font size and margins the way you want through a simple set of controls (see image above). We might be adding more options like a toggle to show/hide images in the text.
Read any time. Once you add a page to your Reading List, it will be automatically made available offline so that you don't need an internet connection to access your Reading List on the go.
Read anywhere. Your Reading List will be synced across all platforms where you use Firefox. This means you'll be able to add a Reading List item in your Firefox on desktop and read it on the go from your phone using Firefox Mobile. This is not implemented yet as we need to have Reader Mode in desktop Firefox before we can enable Reading List syncing there. So, at least for the initial release, the Reader will only be available on mobile.
Firefox Mobile's Reader Mode is similar to existing reader apps. But, as you can see, the real difference here is that it is deeply integrated in the browser, where you usually read stuff anyway. As far as I know, Firefox is the first mobile browser on Android to provide this feature.
Reader Mode is now enabled in the Nightly builds of Firefox for Android. It's still a very early development version so expect bugs. Help with testing and feedback is very welcome. Download the Nightly and try it now!